Hodnocení
Celkové hodnocení majitele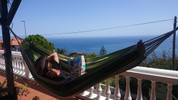 We spent 1 month here and overall enjoyed the time a lot.
The hosts Sverker and Silvia are very positive and hospitable people who tried to find a solution for everything. Silvia is also a highly recommended yoga teacher.
The apartment is spacious with a large living area with kitchen, 2 bedrooms and bathroom. It has a fabulous view and a huge terrace. The bathroom and the kitchen are a bit outdated and should be renewed soon (especially the cooking surface). Nevertheless, we could use everything without problems ... we cooked a lot. (We did't use the microwave.)
There is a workstation in one of the bedrooms. Also, you can work at the table on the terrace, which we partly put in the apartment. The internet connection was very good.
In the immediate vicinity is everything you need for everyday life: 2-3 simple Cafes, a bakery, 2-3 restaurants, 2 minimarkets. The bus goes about 1 time an hour to Funchal. If you want to see more of the island we would highly recommend renting a car – especially because everything on this island is very steep: This went problem-free at "7M" in the main street at relatively low prices. The cars are already a bit worn, but were otherwise reliable.

… and most important: There's the the old and very cute dog Pepe, who will come to visit you from time to time.

Thanks for the good time!

Jonas C.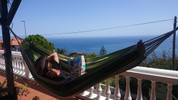 What a great stay! The apartment was clean, spacious, fully equipped with good internet connection and most importantly with a stunning view of the ocean, we didn't miss anything. Location of the flat was good as well - a quiet area close to the beach " de Garaju" and the supermarket Pingo Doce. During our stay we interacted mainly with Silvia who was always available to help when we needed it. Strongly recommend :)

Agnieszka P.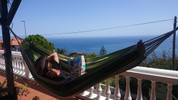 We stayed at the Garajau apartment for 5 weeks in June/July, 2022. Our interaction was mainly with Sylvia who was very sweet and always checked in with us when we saw each other during our stay. We enjoyed spending time getting to know her.
The apartment has a lovely terrace with a view directly out to the Atlantic and the Cristo Rei monument. You can sit at a table and chairs for dining or to work, as well as enjoy lounging in chairs to take in the view and the sun.
The apartment is older and certain areas are in need of upgrading in order to remain competitive with other available units.
The living area is open with a lot of light, sofa, chair, tv(didn't use), and blue tooth speakers. The internet connection is slow and not conducive to remote work but otherwise functional.
The kitchen is open to the living area, unfortunately, it is not completely functional. The stove top is old and rusted, the microwave is also old and has a very bad odor. I was shocked to see the condition of the cabinets which were not clean with stains that could have easily been removed. There were dirty mugs and cutlery in the cabinets and the drawers. I was unable to cook one meal in the kitchen, including making a good cup of coffee in the morning. The washing machine located beside the kitchen works well along with the drying rack.
There are two nice sized bedrooms with double beds. Linens were provided, each bedroom has a window opening to the terrace area.
There are two hall bathrooms, each older and in need of an upgrade. The walk-in shower is small with a lot of erosion and ugly stuff that just can't be removed. The 2nd. Bathroom has a tub with a hand-held shower. Do not try to use it hanging from the wall otherwise it may hit you on the head. Also, the tub is very slippery. Be aware, the water pressure is not strong and changes based on what is being used. There was only one bath towel and two hand towels provided, however Sylvia provided an additional set upon request.
If you don't plan on cooking meals and are looking for a shorter stay then it may be right for you.

Anne G.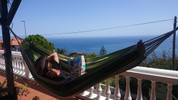 Excellent

Valery V.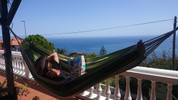 You really will find a view in a million here.

YULIIA K.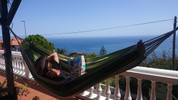 Sylvia and Sverker are great hosts. They are so lovely. I also had Yoga sessions with Sylvia (she is a Yoga-teacher) what was a great experience. The apartment is spacious, beautiful and a great vew to the sea. You will have all what you need for food around you. Thank you a lot!
Daniela H.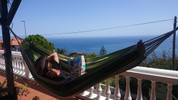 The appartement is very well located:
- Very beautiful view on the sea.
- 5 min. to all shops for the daily needs
Equipment/environment for daily business remote work is perfect (desk, WiFi connection, etc).
Very frindly und helpful landlord
Siegfried R.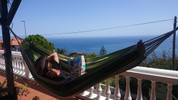 Well equipped, spacious house, located in a nice area close to shops, restaurants and the beach. Fantastic seaview balcony. Owners were very nice and helpful and all communication went smooth. We really enjoyed our stay at Caniço and will definitely recommend booking this house. We'll come back for sure!

Kees H.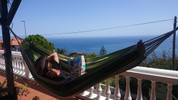 Beautiful and peaceful house, the view from the balcony is spectacular. The house is very well equipped and the kitchen is very spacious for cooking.

The owner is kind and communicative, will definitely recommend staying here !


Sharon W.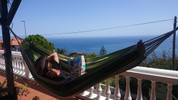 The villa is very beautifully located and it has all of the necessry amenities. Sverker was very helpful and responded to our needs.

Wiktoria H.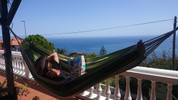 The hosts were very helpful if I had any questions or needed something.
They live on the property so were very accessible

Lisa R.
Reference
Zatím nejsou k dispozici žádné reference